Coconino Center for the Arts
• Breaking The Barrier •
April 11 through May 27, 2017

2300 N Fort Valley Rd, Flagstaff, AZ 86001
(928) 779-2300

Flagstaff Arts Council is pleased to present
Breaking the Barrier, an exhibition which
features interactive artworks in a variety of
mediums that engage with all five senses;
sight, smell, sound, taste, and touch at the
Coconino Center for the Arts.

The opening reception will be held Saturday
April 8, 6-8pm, with live performance art by
Shawn Skabelund, interactive music by Owen
Davis, cash bar, and light hors d'oeuvres.

The exhibition showcases work varying in
scale, materials, and style that will invite
visitors to engage their senses and manipulate
the art in new and exciting ways. Everyone
who walks through the door will essentially
become part of the exhibition. The works range
from a site-specific immersive room-like
installation, to panels that will be built by the
application of visitors' discarded chewing gum.
Viewers will be surprised, challenged, and
delighted to interact with art in the exhibit.

The show features local, national and
international artists from New York, San
Francisco, France, and Flagstaff. Artists
include: Daniel Rozin, Leo Castaneda, Allen
Riley, Christian 11, Cathy Gazda, Ben Craigie,
Liesa Lietzke, Deb Strong Napple, Shawn
Skabelund, Frederica Hall, Cathi Borthwick &
Sharon Richards, Elijah Bourque, Gregory
Zushka, Robert Jackson, Yelena Roslaya,
Steven White, Brice Roy, & Karina Puga.


To view Cathy's artwork in this exhibition
CLICK HERE: "Under My Skin"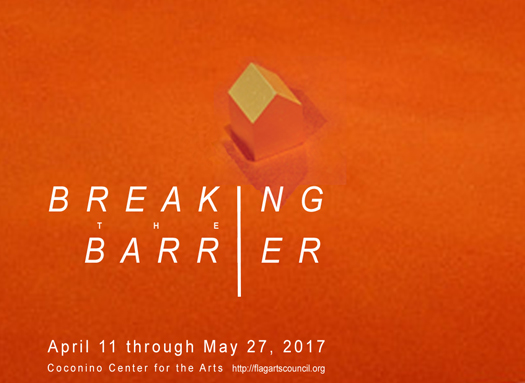 "Breaking The Barrier"
Coconino Center for the Arts
2300 N Fort Valley Rd, Flagstaff, AZ 86001
(928) 779-2300

Open 11-5 Tuesday through Saturday (closed Sunday and Monday)

Opening Reception April 8, 2017 • 6-8 •
• FREE • All are welcome