Sedona Arts Center
• Sedona's Legacy Artists •
June 7 through July 2, 2017

15 Art Barn Road, Sedona, Arizona 86336
(928) 282-3865

As Sedona Arts Center looks to its 60th
Anniversary year in 2018, the nonprofit cultural
organization is planning a series of exhibitions
and events that celebrate our creative
community and diverse artistic heritage. To
warm up the Diamond Anniversary, the Arts
Center will present Sedona's Legacy Artists: A
Retrospective Exhibition in two parts.

From June 7 to 18, the Special Exhibition
Gallery will showcase the works of Sedona
artists Luminous Antonio, Dee Durkee, Mary
Heyborne, Alok Hsu Kwang-han, Dennis Ott,
Jan Sitts, Robert Siracusa, Firuse Stalcup,
John Waddell, Ruth Waddell, Janise Witt and
Susan Zalkind.

Sedona's Legacy Artists continues with Part Two
of the exhibition, June 21 to July 2, featuring
works by Aya (Jean-Marie Schiff), Barbara
Brown, Nancy Robb Dunst, Paul Gazda,
Cathy Gazda, Theodosia Greene, Bonnie
Hartenstein, Liam Herbert, Ellen Kamerling,
James Muir, Jessica Sierra and John Soderberg.

"The upcoming Sedona Legacy exhibitions
highlight the diverse nature of visual artwork
that has been made here - from oils and
pastels to bronze and alabaster objects -
shaping our creative identity over the past fifty
years," describes project coordinator and
curator Pam Frazier. "Each of these artists tells
you who they are through their evocative
artwork, essentially sharing a visual
biography and inspirations in Sedona."

Sedona's Legacy Artists: A Retrospective
Exhibition is free and open to the public.

Please attend the opening receptions
for each part of the exhibition:

Part One: June 7-18, 2017
Opening Reception, June 7, 5-7 pm

Part Two: June 21 - July 2, 2017 Opening Reception, June 21, 5-7 pm

For more information, please call exhibit
curator Pam Frazier at 928-606-3998.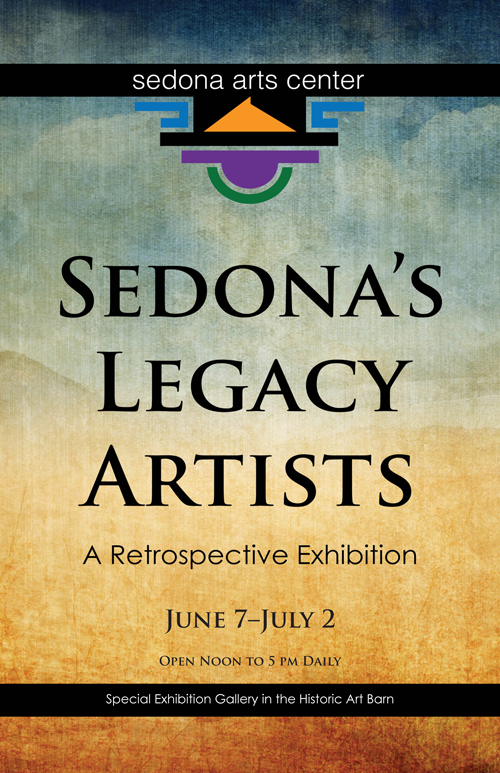 "Sedona's Legacy Artists"
Sedona Arts Center
15 Art Barn Road, Sedona, AZ 86336
(928) 282-3865

Gallery hours are Noon to 5:00 pm.

Opening Reception #1 June 7, 2017 • 5-7 pm •

Opening Reception #2 June 21, 2017 • 5-7 pm •

• FREE • All are welcome