Northern Arizona Watercolor Society
Experimental Water Media 2014 Exhibition
15 Art Barn Road
Sedona, Arizona 86336

Opening Reception: Sept. 26, 5-8 pm
Hope to see you there - all are welcome!

Juror: Bonnie Hartenstein is an award-winning
professional artist, who has been exhibiting
her work nationally for over 30 years. Not only does she hold a Masters of Fine Art in Mixed Media Arts and a Masters degree in 20th Century Art History, Theory and Criticism, she was on the faculty at the renowned School of the Art Institute of Chicago for 22 years.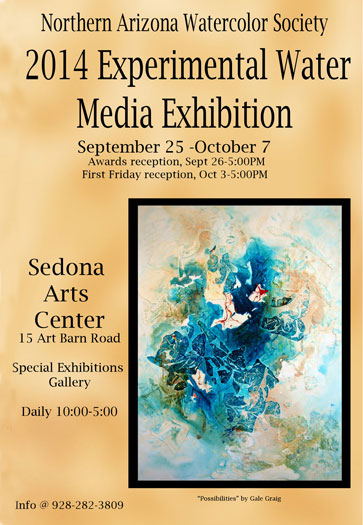 "Northern Arizona Watercolor Society"
Experimental Water Media 2014 Exhibition

15 Art Barn Road, Sedona, AZ 86336
September 25 – October 7, 2014