Don't miss "Radical Center" an art exhibit
at Yavapai College Verde Art Gallery
with Rose Moon, Paul Gazda and Cathy Gazda.

In geometry, the power center of three circles
is called the radical center. The work of these
three artists is more than purely visual:
it invites interpretation at their radical
center of meaning.

"Radical Center" will be open to the public at Yavapai College Verde Art Gallery
from September 29 through October 23,
10 am to 3 pm (Monday - Thursday).

The Opening Reception will be
Thursday October 2, from 5 pm till 7 pm.
It will be a gathering you won't want to miss.
All are welcome!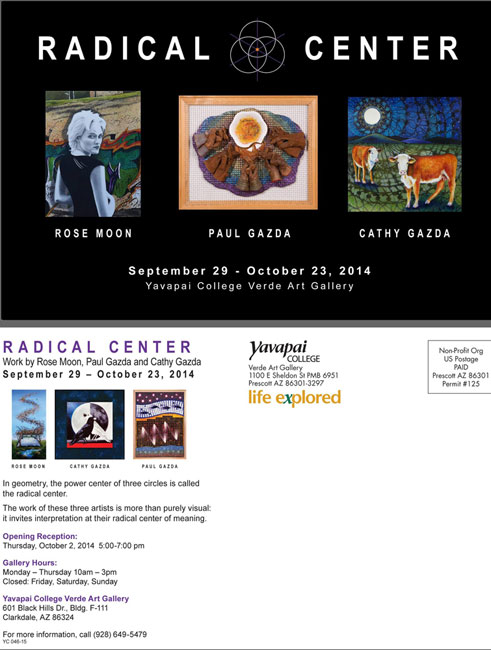 "Radical Center"
Artists Rose Moon, Paul Gazda and Cathy Gazda
Yavapai College Verde Art Gallery
601 Black Hills Drive, Bldg F-111
Clarkdale, AZ 86324
Open 10-3 Mon. - Thurs.
Opening Reception Thursday October 2, 5-7 pm